Vitamix- Blentec Blenders: " And Two Green Smoothies a Day,
certainly keep the doctors far, far away…"
Do you remember the old saying: "An Apple a Day, Keeps the doctor Away"?
A friend of mine begun eating living foods, non-cooked foods, or raw foods, when one day he had an organic apple for snack. He felt so satisfied and full that started to wonder why just an organic apple had such a fast and profound physical, mental, and emotional effect on him.
The answer was simple: it was the very first time he felt the difference between a conventional grown apple (full or artificial pesticides and fertilizers, and may by a GMO fruit), and a nutrition packed, organic one! full of vitamins, enzymes, and minerals, which are not present on the conventional grown fruits.
If an organic apple a day can do such a miracle transformation in our bodies, have you ever wonder what a nutrition packed GREEN SMOOTHIE can do to our bodies, minds, emotions, and eventually to our spirit? Well, it will do a miracle! And "Two Smoothies a Day, definitely will keep doctors far, far Away!" © Carlos Caridad 🙂
"A Green Smoothie A day, Keeps the doctors Far, Far Away"
See how easy is to make a delicious Green Smoothie in less than 5 minutes with just frozen mango, oranges, ginger root, kale, celery, and green onions.

A raw food or more precisely living foods life style has been known to slow down the aging process, reverse wrinkles from your face, improve your vision, turn premature grey hair back to its natural color, keep you slim, improve your internal health, give you more energy, and increase your libido.
Benefits of having a Vitamix-Blendtec blender to make Green Smoothies
Here are some of the benefits of having a powerful Vitamix or Blendtec blenders to make and drink Green Smoothies:
Eliminates constipation, by providing large amounts of natural fiber that regularize and balance our bowel movements.
Shed, loss weight/belly fat very easily and FAST!

Any one drinking green smoothies loses weight!

without the serious and permanent side effects of Lap Band, liposuction and other weight loss methods that include surgery, medications to decrease apetite, and drugs. 
It gives you almost instant energy (without the crash that follows a morning coffee or an "energy drink" like Red Bull,etc. ;-), because a green smoothie is incorporated to the blood stream very fast, and does not take energy from your body to digest it.
A green smoothie is an ideal breakfast because you don't use up energy from your digestive system, trying to break up and digest heavy proteins (meat, cheese, etc.), white breads (that contain sugars and difficult to digest carbohydrates), and other heavy meals. You are ready to tackle the world from the get go!
Green smoothies keep your blood stream clean and thin. Having better blood circulation, it oxygenates the internal organs faster and better, so you have more energy and you get less tired.
This also prevents aging and improves physical performance in all aspects of life: sports, work out, general fitness, and even improves your libido 😉
Since physical energy is the source of mental, emotional, and spiritual energies ("The Power of Full Engagement", Jim Loehr and Tony Schwartz), all those vital energies improve considerably too!
Your skin becomes smooth and sexy! I was told like a baby skin…
Green Smoothies keep your body alkaline, healthy, and your immune system strong!
Drinking green smoothies is one of the best ways to loose weight fast, without even exercising!
There are even spiritual benefits when you drink green smoothies! 🙂 Your thoughts are align with your soul and real purpose in life!
this chase away viruses and most health conditions, like colds, flues, head aches, joint pains…
Help heal wounds faster, and recover from surgeries quicker, like my knee surgery. I was bicycling  and walking up and down the Manhattan Beach steps by the sand dune, in half of the time that a younger guy who had the same ACL knee surgery, two weeks before me!
etc., etc., etc.
…Please send me any benefits you have experienced by posting them in the comments box below. I will gladly add your collaboration along with your name. Thanks.
You kids get less sick, if they get sick at all! This benefit is so appreciated by we parents! We don't have to run to the doctor's office any more!
again, incorporating daily green smoothies, any body can lose weight quick and safely!
Some people ask: how large of a green smoothie can I drink and still lose weight? I drink between 40 to 60 fluid oz. of green smoothie a day, and I do not gain any weight. I am 151 lbs and feel great! Actually I lost about 10 lbs when I became raw foodist. My suggestion is to follow those numbers when you drink a green smoothie with not much fruits, about two medium oranges m. If you use frozen mango, you should limit the amount of it if you see you gain weight.
Get a Blendtec or a  Vitamix blender asap to start enjoying the benefits of daily green smoothies!
My kids refuse to go to doctors since they drink a green smoothie every day. My wife makes a 16 oz. glass of green smoothie for each one, every day. Usually is 50% frozen mango and 50% dark green leafy veggies, like spinach, kale, and green chard. We use alkaline water for the smoothie. I try not to use mango, it is too sweet for me, and I use less fruits (30%), usually oranges; sometimes an apple. (I'll be talking about alkaline water and foods soon. Amazing topic…)
Since our children started drinking their green smoothies every day, they don't have any the "natural" and "common" seasonal flues, stomach aches, ear infections, fever (when they have it, they recover very quickly and they haven't lost a day of school!), allergies, digestive problems-up sets, CONSTIPATION!
( I heard once that constipation is the worst sickness, because it leads to many, many dangerous health conditions, and accumulation of toxins), mental fogginess, lack of focus-concentration and alertness, moodiness, etc., etc., etc.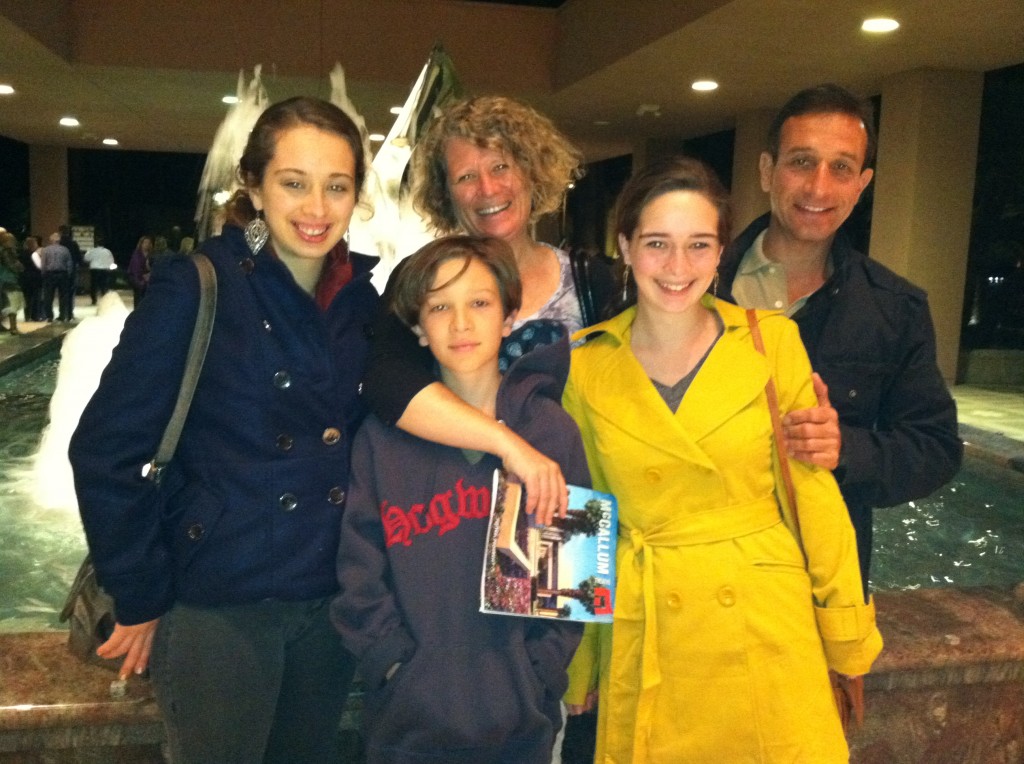 Here is a picture of my healthy family taken three days ago on our Thanksgiving vacation in Palm Springs, after seeing the Riverdance show. Great show, great dancers. I wonder if some of them, if not all, eat really healthy, because it requires a special nutrition to have those perfectly shaped bodies, mental alertness, quickness, and physical coordination!

We took our Vitamix blender with us, and enjoyed our every day green smoothies. Well, my kids are not very fond of green smoothies… They gladly drink them because we say so and the benefits of drinking it: if they don't drink their smoothies, they lose computer or iTouch time ;-). The Blendtec blender is more powerful and noisy than the Vitamix. The Vitamix is a great blender; we had been using it for over 5 years by now, EVERY DAY! We already had to replace one container because so much use!
Our older daughter, now in college, ask for a green smoothie every time she does not feel good because she ate some pasta or a cheese pizza at campus. Both girls like green smoothies because they can lose weight very easily and fast, and skip the gym and its grueling work outs.
My super boy drinks his green smoothie because we force him to do so :). He likes Owl City very much; we do to; in "Dear in the Head Lights" song, Adam Young says: " and I guess that's the way it goes", and he drinks his smoothie…
I guess my wife and I are, just like in the Cosby show, a benevolent tyranny…
Carlos Caridad
————————————————————————————————-
Some properties of Green Smoothies:
A green smoothie is the

best and cheaper way to get antioxidants

fast into your body. ("Eat To Live" by Joel Fuhrman MD) and keep you body Alkaline. Remember that cancer thrives in acidic environment
Antioxidants neutralize free radicals, which are particles that destroy healthy cells and eventually cause cancer.
We get free radicals from the air we breath, water we drink, toxins in the environment, and the worst of all toxic sources- the toxic we food we eat!
Antioxidants make free radicals render harmless. A good amount of daily Antioxidants is a MUST nowadays to be healthy!
Two 16 ounces of green smoothies every day will neutralize free radicals that can produce many harmful health conditions, like cancer, fast aging, and give you the extra energy to tackle your day!
The first step is to buy a powerful blender like a Vitamix or a Blendtec NOW. Do not procrastinate! Start getting healthier NOW!
The second step is TO MAKE YOUR GREEN SMOOTHIE EVERY DAY! 🙂
The third and last is to DRINK IT! (every day 😉