"In An Alkaline Body Sickness can not Exists!"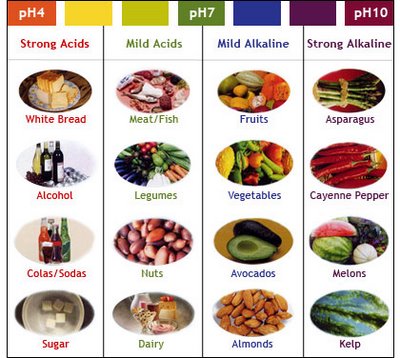 Research affirms that healing is not possible unless the body is slightly alkaline. No means of improving health will be successful in an acidic body, because acidosis inhibits the body's ability to absorb nutrients, to repair cells, to produce energy and to detoxify heavy metals.
In this unhealthy environment, tumor cells thrive and fatigue and illness take over. Over acidity contributes to a plethora of problems, including: Kidney Stones, Immune Deficiency, Hormonal Problems, Cardiovascular Damage, Premature Aging, Loss of Drive and Joy, Pale complexion, Loose and Painful Teeth, Lack of Energy, Mouth and Stomach Ulcers, Falling Dull Hair, Gastritis, Leg Cramps and Spasms, Joint Pain, Osteoporosis, Lactic Acid Buildup, Eyelid Inflammation, and Dry skin to name a few
Acid Forming Foods To Avoid
Most dried beans and other legumes are acidifying.
Drugs, chemicals, artificial sweeteners, food additives, tobacco and alcohol, as well as soft drinks, tea and coffee are strongly acidic forming.
Most fats and oils, except olive oil, canola oil and flax seed oil are somewhat acidifying and should be used in moderation.
Do not avoid beneficial oils as their other health benefits outweigh any pH consideration
List Of Alkaline Foods:
The most highly alkalizing food are lemons and watermelon, followed by celery, parsley, dates, figs, mangos, melons, papaya and stevia
Most vegetables, including greens, cruciferous vegetables, tomatoes and root crops are alkalizing, except corn, lentils, olives and winter squash.
Most fruits including citrus, melons and berries are alkaline forming, except canned fruits, cranberries, plums and prunes.
Protein sources which are alkalizing are limited, but include almonds, chestnuts, millet, tempeh (fermented), and whey
All herbs, sea salt, kelp, seaweed and some spices such as cinnamon, ginger, chili pepper and curry are alkalizing.
Some minerals have a high alkaline effect to the body: caesium, potassium, calcium, sodium, and magnesium